Third of retirees financially supporting family
Posted on: 23rd Jul 2021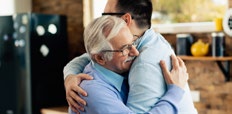 A third of potential retirees continue to financially support their families, with regular handouts amounting to more than £3,700 a year4. Those planning to retire expect an average income of £20,663, but anticipate around a fifth of this (£3,700) will be used to support the finances of younger family members. This equates to £311 a month, although 12% say they contribute £500 or more.
Supporting the family
Accommodation and living costs are the top priorities for those supporting loved ones, with 28% allowing their family to live with them rent free. One in four also give family members regular cash to cover everyday living costs such as food, and one in five cover some or all of their household bills. A further 19% pay for treats such as holidays, 15% have put money towards a property purchase, and 13% pay for university fees.
Think about your financial security too
We understand it's only natural to want to support loved ones, particularly with the current economic situation putting more pressure on people's finances. However, with the pandemic also impacting pension savings, this could affect your ability to continue to support family members. Talking to us can help you understand how much support you can realistically provide so that you don't end up compromising your long-term financial future.
4Key, 2020
It is important to take professional advice before making any decision relating to your personal finances. Information within this newsletter is based on our current understanding of taxation and can be subject to change in future. It does not provide individual tailored investment advice and is for guidance only. Some rules may vary in different parts of the UK; please ask for details. We cannot assume legal liability for any errors or omissions it might contain. Levels and bases of, and reliefs from, taxation are those currently applying or proposed and are subject to change; their value depends on the individual circumstances of the investor.
The value of investments can go down as well as up and you may not get back the full amount you invested. The past is not a guide to future performance and past performance may not necessarily be repeated. If you withdraw from an investment in the early years, you may not get back the full amount you invested. Changes in the rates of exchange may have an adverse effect on the value or price of an investment in sterling terms if it is denominated in a foreign currency. Taxation depends on individual circumstances as well as tax law and HMRC practice which can change.
The information contained within this newsletter is for information only purposes and does not constitute financial advice. The purpose of this newsletter is to provide technical and general guidance and should not be interpreted as a personal recommendation or advice.
The Financial Conduct Authority does not regulate advice on deposit accounts and some forms of tax advice.