More people accessing pension cash
Posted on: 17th Jun 2021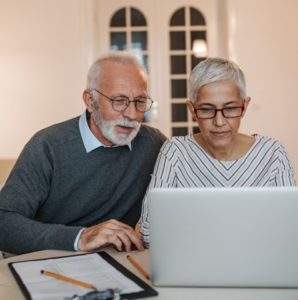 More people accessed their pensions and more money was withdrawn in the final three months of 2020 compared to the same quarter the previous year. A total of £2.4bn was withdrawn from pensions flexibly in the three months to December 2020, representing a 6% increase from £2.2bn in Q4 2019.
The HMRC data2 shows that 360,000 people accessed their pensions in the fourth quarter of 2020, up 10% from the same period in 2019, meaning the average amount withdrawn per individual was lower. There was a 4% increase in the number of individuals withdrawing compared to the previous three months.
COVID effect
October, November and December typically see a slight drop in the number of people accessing their pensions, so this change in behaviour may be attributable to the impact of the pandemic. With unemployment and redundancies rising, many people may be feeling the need to dip into their pensions.
Consider your options
Withdrawing money from your pension savings has its risks, so it's important to weigh up all your options carefully and seek financial advice before deciding.
2Gov, 2021
It is important to take professional advice before making any decision relating to your personal finances. Information within this newsletter is based on our current understanding of taxation and can be subject to change in future. It does not provide individual tailored investment advice and is for guidance only. Some rules may vary in different parts of the UK; please ask for details. We cannot assume legal liability for any errors or omissions it might contain. Levels and bases of, and reliefs from, taxation are those currently applying or proposed and are subject to change; their value depends on the individual circumstances of the investor.
The value of investments can go down as well as up and you may not get back the full amount you invested. The past is not a guide to future performance and past performance may not necessarily be repeated. If you withdraw from an investment in the early years, you may not get back the full amount you invested. Changes in the rates of exchange may have an adverse effect on the value or price of an investment in sterling terms if it is denominated in a foreign currency. Taxation depends on individual circumstances as well as tax law and HMRC practice which can change.
The information contained within this newsletter is for information only purposes and does not constitute financial advice. The purpose of this newsletter is to provide technical and general guidance and should not be interpreted as a personal recommendation or advice.
The Financial Conduct Authority does not regulate advice on deposit accounts and some forms of tax advice.