Wealth Managers Raising Their Game to Attract Millennials
Posted on: 14th Dec 2016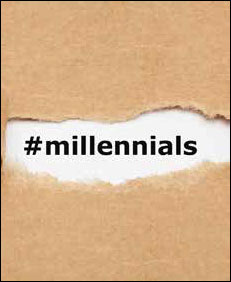 There's growing evidence that when it comes to savings and investments, Millennials have a completely different perspective from their parents and grandparents. Those born in the early 1980s through to the turn of the century, the Millennials as they have come to be known, followed on from Generation X, who in turn succeeded the Baby Boomers.
Some of the biggest influences on this group have come from the widespread introduction of technology and the rise of social media. In an increasingly connected world, where global news and events are instantly flashed around the internet, Millennials are constantly attuned to the many challenges facing the world. Their outlook on life has been shaped by experiencing world events such as turmoil in financial markets, environmental disasters and increasing evidence of climate change.
A More Considered Approach
Millennials also expect to see a stronger set of social values reflected in the financial products and services they buy. They are likely to spend considerable time online researching alternatives and consulting multiple sources before making major investment decisions.
When it comes to saving and investing, as well as considering likely returns, younger investors are keen to find out more about the companies they are thinking of investing in. They will want to know what their attitude is to issues such as corporate social responsibility, climate change, responsible sourcing of raw materials and wage rates paid to overseas workers.
Forward-thinking fund managers are increasingly developing values-based investment products and services that take account of these increasingly discerning financial consumers.
It is important to take professional advice before making any decision relating to your personal finances. Information within this blog is based on our current understanding of taxation and can be subject to change in future. It does not provide individual tailored investment advice and is for guidance only. Some rules may vary in different parts of the UK; please ask for details. We cannot assume legal liability for any errors or omissions it might contain. Levels and bases of, and reliefs from taxation, are those currently applying or proposed and are subject to change; their value depends on the individual circumstances of the investor. The value of investments can go down as well as up and you may not get back the full amount you invested.
The past is not a guide to future performance and past performance may not necessarily be repeated. If you withdraw from an investment in the early years, you may not get back the full amount you invested. Changes in the rates of exchange may have an adverse effect on the value or price of an investment in sterling terms if it is denominated in a foreign currency.