Technology Aids Joined-Up Finances
Posted on: 23rd Jul 2015
According to Ofcom, four in every five households now has access to the internet and 63% of people own a smartphone. This level of always-on connectivity and access to information is transforming modern communications in ways which, even just one generation ago, we would never have dreamed.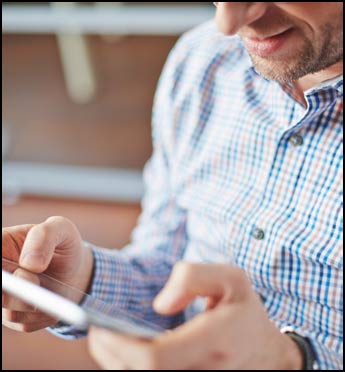 Technology is enabling consumers to talk directly to both businesses and each other in a highly personalised way, all driven by a revolution in technological capability.
This revolution has reached the investment industry. Platforms – also known as 'wraps' or 'fund supermarkets' – offer investors a way of understanding and interacting with their net wealth in a way that was previously possible but which would have taken hours of phone calls, tracking down paperwork and tedious calculations to complete.
Platforms allow you to find all the information you need in one place. Be it an Individual Savings Account (ISA), a pension plan, unit trust investments or even an investment bond, a platform can accept transfers for a wide range of eligible investment plans*. Once consolidated, you are then provided with a 'single view' of your entire net worth, along with access to reports, analysis and performance monitoring information to help you keep it on track.
The range of investments available can be vast, but will generally include the same funds and other investments you already hold. Charges may be lower too, meaning more of your money can be invested and improve your potential for growth over the long term.
Platforms aren't suitable for everyone, but the benefits for many will be tangible in terms of both money and time saved.
Please note: the value of your investment can go down as well as up and you may get back less than you originally invested.
*Some existing pension and savings plans may carry exit fees which may outweigh the lower fees and other benefits offered by a platform or other investment provider.
Suitability therefore depends on your individual circumstances and you should seek professional financial advice before making a decision.
It is important to take professional advice before making any decision relating to your personal finances. Information within this blog is based on our current understanding of taxation and can be subject to change in future. It does not provide individual tailored investment advice and is for guidance only. Some rules may vary in different parts of the UK; please ask for details. We cannot assume legal liability for any errors or omissions it might contain. Levels and bases of, and reliefs from taxation are those currently applying or proposed and are subject to change; their value depends on the individual circumstances of the investor.
The value of investments can go down as well as up and you may not get back the full amount you invested. The past is not a guide to future performance and past performance may not necessarily be repeated. If you withdraw from an investment in the early years, you may not get back the full amount you invested. Changes in the rates of exchange may have an adverse effect on the value or price of an investment in sterling terms if it is denominated in a foreign currency.